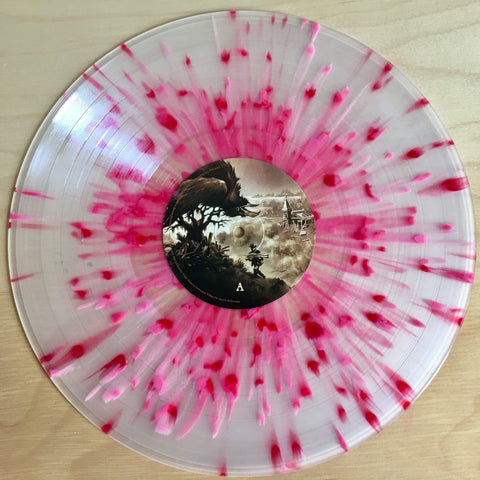 The Builders and the Butchers - The Spark Limited Edition LP (2 Left)!
We are excited to announce an upcoming album from The Builders and the Butchers!  Get ready for one of the bands' best albums yet: The Spark on LIMITED EDITION MILKY CLEAR VINYL WITH OPAQUE BLOOD RED AND TRANSPARENT RED SPLATTER.  Only 100 were made.  WE HAVE A FEW LEFT!

NPR says, "For more than a decade, the members of The Builders And The Butchers have specialized in a kind of white-knuckle Americana: Their acoustic folk-rock sound is shot through with nervy, hellfire-and-brimstone intensity. The Portland-born band's hometown brethren in The Decemberists provide a useful reference point — singer Ryan Sollee has a wide-open bellow and a gift for vivid imagery — but The Builders And The Butchers' urgent music, as heard in the new single "Casket Lands," is far more scuffed-up and fatalistic.  On May 19, The Builders And The Butchers will return with The Spark, which carries on in the group's tradition of tightly wound roots music that never feels tethered to a single era. Via email, Sollee writes that the record came together slowly and deliberately." - Stephen Thompson, NPR All Songs Considered
Each LP comes with a digital download card for 320kbps MP3's of the songs.
* We ship all LPs in new, perfect condition.  Each LP is packed with 12" cardboard padding and placed in an LP specific cardboard mailer.  The postal service does occasionally bang up our boxes.  Though we take great care in packing your LPs, we cannot be responsible for damage that occurs in route to your address.  If you would like your vinyl to be taken out of it's jacket so seams are less likely to split in rough mail handling, please send us a reply, with that info, to your order confirmation e-mail.  If you would like to purchase insurance to cover any potential damage, hit us up at info(at) badmanrecordingco.com and we can quote that for you.  Mahalo.