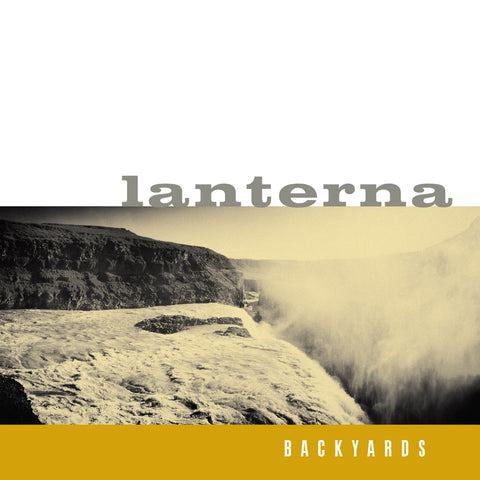 Lanterna - Backyards CD
LANTERNA – BACKYARDS
LP also Available here now!  $15.99 (includes shipping in the U.S.) - International customers choose "International LP" for your shipping choice. 
 "Flurries of rippling arpeggios, rich ringing chord clusters and long, sustained single notes that hang in the air" – San Francisco Chronicle
Champaign, Illinois' Lanterna are pleased to announce their latest album release, Backyards on Badman Recording Co.'s instrumental-only label, Jemez Mountain.  The ten-song collection completes multi-instrumentalist Henry Frayne's most compelling work to date where he crafts musical landscapes interweaving layers of warm, instrumental sonic tapestries. Backyards is the fifth Lanterna CD (and counting) to be released by Badman/Jemez Mountain.
Backyards was written on an acoustic guitar, humming the melody that would become the twangy guitar part," explains Frayne. "Behind most of the songs on Backyards, the album, is an acoustic guitar part written while sitting outside in the open air with a hummed melody later replaced by echoey guitars." 
For Frayne, the inception of Backyards began almost a decade ago and is a culmination of his career as a versatile musician best known for blending genres and bending guitar styles to create layers of airy overtones. For this album, most of the songs sprung from an orphaned blond Conrad hollow body six-string bequeath from a friend in 1995 along with a Gibson acoustic, purchased in a farmyard in Maine in 1983 for $5, after having survived a fire. Frayne composed the underlying textures of the record with a heavy influence from the Nashville tuning, the practice of utilizing very light strings to produce an angelic sound.  Frayne leaned this Nashville tuning from bandmate Brendan Gamble during their time in The Moon Seven Times.
"As I've worked on the album Backyards I was drawn to some old live recordings of The Syndicate, Ack-Ack, Area, and The Moon Seven Times, bands I played with in the past," Frayne explains. "Before things like cassettes and reel-to-reel tapes degrade and pass from this earth I wanted to archive old shows and recordings by bands I was lucky enough to share the stage and studio with. There are echoes of these four groups all over this new album. Much of the time between 2006 and 2014 was literally spent in one backyard or another working on outdoor projects great and small, but Backyards was always playing in the back of my mind!"
Featured artist on Echoes Radio (Sirius/XM and nationally syndicated). 
March 2015 #1 Album of the Month on Echoes Radio
"Lanterna is Henry Frayne, who we first heard playing guitar in the shoegaze/dream-pop bands Area and The Moon Seven Times. As Lanterna he's been creating a distinctive brand of Ambient Americana, a sound first put in the air by Brian Eno and Daniel Lanois on the Apollo album.

Each song on Backyards is like an exquisite reverie.  Lanterna does something that's not easy. His songs are heavily atmospheric but instead of the enclosed, immersive feel that sound often yields, his compositions gallop along pastoral back roads and across desert plains, open to the sky and gathering light like a sun-catcher. Backyards isn't the one behind your house, it's the one behind your mind." - John Diliberto, Echoes