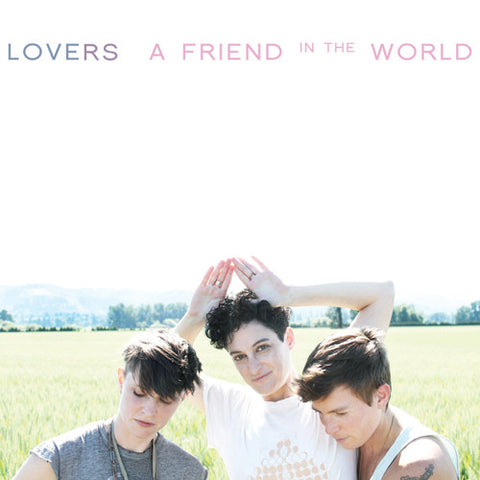 Lovers - A Friend in the World
With their seventh album, A Friend in the World, Lovers fuse intimacy and empowerment into a modern atmosphere of honesty, new feminist humor, and rhythmic complexity. The result is at once confident, tender and romantic. A Friend in the World is a rich engagement of acoustic and electronic extroversion and introspection-- an uplifting ride into uncharted territories of the heart and mind. 
We are down to the last few copies of the LP.  Get 'um while you can!

"The new album is witchy. It celebrates women and mysticism; it conjures emotion built in a sacred space. "There's a certain kind of landscape and culture and magic and feminism out here [in the Pacific Northwest] that I'm responding to. To me, the album has many prayers and reflections and it's a prayer for magical sexiness with trust and honor. That cannot be too much to ask for." - After Ellen
Check out the video for "Tiger Square" here:  https://www.youtube.com/watch?v=Lk84KXryklw
"It's been a while since I've heard an album with this kind of superior lyrical quality.  Backed by elctro-pop instrumentation while fusing themes of love, intimacy and a dash of feminism, A Friend in the World, is truly a rare find."  - Allison Shephard, Slug Mag
Also available as Digital Download or Vinyl in the dropdown menu!  LP price includes shipping to U.S. addresses. 

We ship all LPs in new, perfect condition.  Each LP is packed in double 12" cardboard and placed in an LP specific cardboard mailer.  USPS does occasionally bang up our boxes.  Though we take great care in packing your LPs, we cannot be responsible for damage that occurs in route to your address.  If you would like your vinyl to be taken out of it's jacket so seams are less likely to split in rough mail handling, please send us a reply with that info to your order confirmation e-mail.  Mahalo.