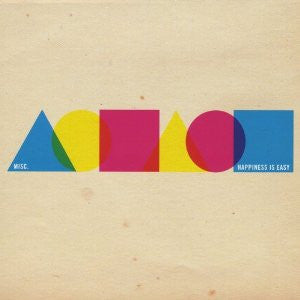 Misc. - Happiness Is Easy
Misc. is the moniker for the studio project by Badman label founder/producer Dylan Magierek. Over the last few years Magierek devoted portions of studio time with some of the artists he has recorded to create a full length album; The result is a moody, cohesive, instrumental heavy album -with vocals by gifted Los Angeles poet-songwriter Daniel Ahearn lending fantastic, stirring, ardent stories to half of the tracks.
Misc. constructs soundscapes for listeners to get lost in or just support their own life movie.

"Impatient browsers might flip by HAPPINESS IS EASY assuming it's some miscellaneous artists' label promo, but even though producer Dylan Magierek (aka Misc.) has wrangled many guest musicians and there's a slightly different feel to every song, HAPPINESS plays through like a proper, cohesive record. Borrowing the talents of studio guests like producer and frequent American Music Club pedal steel guy Bruce Kaphan and Los Angeles poet-songwriter Daniel Ahearn, Magierek fleshes out his spacious, often cinematic home recordings in a clever, appealing way. The results are frequently moody: "Such a Fighter" recalls prime Low, whose "Sea" Magierek not coincidentally covers here." - All Music
https://open.spotify.com/artist/72T4k0vAzQnVbBZEipp9X8