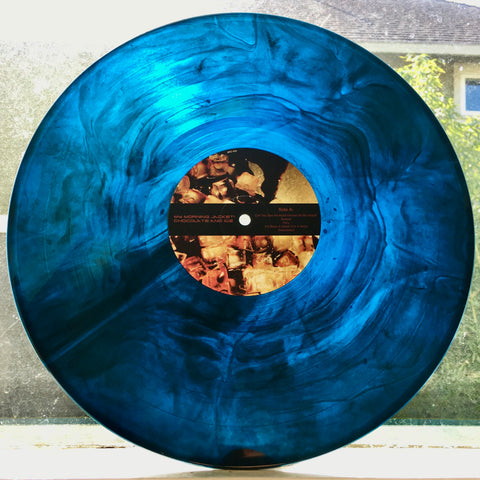 My Morning Jacket - Chocolate and Ice LP 2021 Galaxy Blue/Black Limited Edition
This is a 2021 new color version of My Morning Jacket's Chocolate and Ice on vinyl. This 1,000 piece limited edition will not be repressed in this color scheme.  The purchase of this LP does not include a digital download of the album.  It comes in a white inner sleeve placed in a clear thick vinyl "picture disc" style jacket. 

Each album is one-of-a-kind and will look different when held up to a light source. 

The photo shown was placed in a window so the sun lit up the unique color and pattern.  It will look black until a bright light source is held behind it.  $18.99 including shipping in the U.S.  Just choose LP Shipping in the cart.  For foreign orders, please choose "International LP Shipping" in the cart.  The EU is now charging VAT on orders shipped from the U.S. and the customer should be prepared to pay any duties. 

"Though these guys have always been relatively sparse in their arrangements, Chocolate and Ice takes the 'less-is-more' philosophy further than any of the group's previous efforts, possibly as a cautionary measure against the muddy production value. The dynamic is intriguing, to say the least, as tracks like "Sweetheart" and "Sooner" pay homage to the 'couples only' dance music of the 1950s-- think Patsy Cline, Buddy Holly, and Roy Orbison. My Morning Jacket are just convincing enough to make the repressed adolescent in me cry right along with them sometimes." - Pitchfork