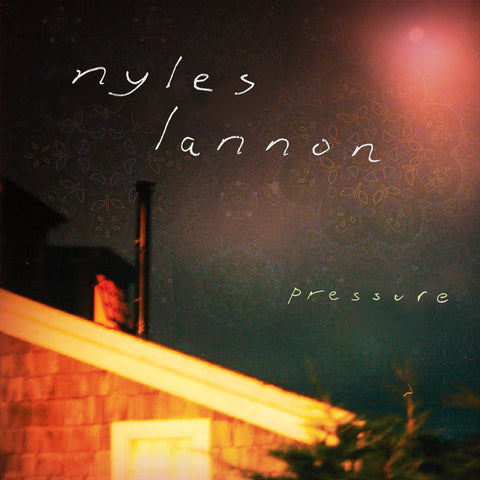 Nyles Lannon - Pressure (Extended Version) Digital Download
Nyles Lannon is a musician, songwriter and producer from San Francisco, CA. As a multi-instrumentalist, he blends a nostalgic folk sound with disparate styles, always with an emphasis on melodies and hooks. He has released four critically acclaimed solo albums as well as several albums with the shoegaze band Film School.

To celebrate 15 years since the release of his sophomore solo effort Pressure, Badman Recording Co. is re-releasing the album as Pressure (Extended Version) on February 25th, 2022 with alterations to the songs, new mixes, bonus tracks, a new sequence, and  remastering. It will only be available as a digital download.  The desire had been brewing in him for years, but the amount of work required always thwarted his efforts. And then lockdown came…
A little background: Pressure had always been a bittersweet album for Lannon. As it was nearing completion in 2007, he and his wife were expecting a child and were flat broke. Needing to make some quick diaper money, he started applying for whatever jobs he could find. He was distracted and didn't give the album the attention it needed. It was pushed out of the nest too early. Touring to support it was impossible, and the album fell through the cracks. It would be several years before Lannon would release another record.

Over time he found he wasn't satisfied with the mixes. In fact, his relationship with the album had soured. As streaming sites became the norm, he realized the album would live in an unpolished purgatory: that place where good ideas and hastened execution meet. The ingredients were there, but it just needed a little tweaking. He had to do something about it.

So, as the kids were upstairs on their screens for their daily remote learning, he gathered the old computers and drives from the basement and cracked the vault open. After painstakingly amassing as much as he could from old drives, it was clear he would need to re-record some parts of the album, he just couldn't find all of it. At first, he thought this was a non-starter - the project couldn't be done. He couldn't change the songs...

Or could he? 

"I leaned on my friends to help with replaying some parts, and it just opened up. I had my son play drums on a bonus track, which was really special. It was fun to rediscover these songs through their enthusiasm, and it rekindled my love for this album," says Lannon.

What was once a solo endeavor now became a group effort. Dan Long (Film School, Spiral Stairs) manned the controls for many of the final mixes, bringing a new perspective and energy to the music. Lannon enlisted Count Eldridge (Tycho, DJ Shadow) to help as they reworked the rest.

Fans will find much to engage with in this reimagining: the songs have an updated sound as well as additional instrumentation, some with slightly different arrangements. There are two bonus tracks from the era that fit right into the vibe: the haunting "Go Ra Shira" which features Skye Lannon on drums, and "My Train," a fingerpicked ballad that Lannon re-recorded with local lap steel player Dave Zirbel.

The album shines like never before - a collection of dynamic acoustic pop that takes on many forms from lightning fast fingerwork to swirling shoegaze, all the way through to moody ballads. Lannon can finally rest easy, knowing the album plays the way he always wanted.

"Masterful Bedroom Folk Pop" - American Songwriter
"Pressure is a fascinating, alluring collection of songs…" (4 stars) -  Paste Magazine

Street date: 2/25/2022  High-quality 320kbps MP3 download.