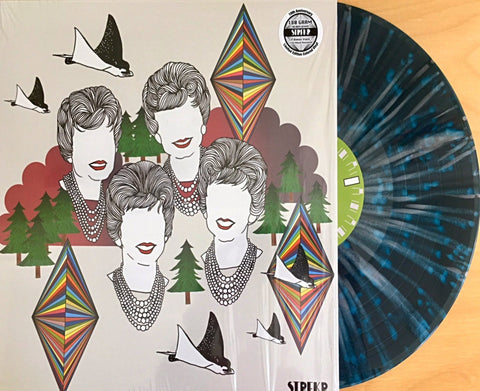 STRFKR - 10th Anniversary Limited Edition Splatter Vinyl SOLD OUT!
In celebration of the 10th Anniversary of their AMAZING debut album, we are offering a limited edition blue and silver splatter version of this classic album on vinyl!!  These are not available in stores and now very hard to find.  SOLD OUT.
Their debut album. Includes the songs "German Love," "Rawnald Gregory Erickson the Second," "Holly," and seven more gems. It's a fantastic album that got it all started for this outstanding group.  Songs from this album are featured in ad spots from Target and IBM and in films/TV shows like Love, Enough Said and The Blacklist.  The 12" includes bonus track "Pistol Pete." Comes with a card for a free high quality 320 mbps MP3 download too!
* We ship all LPs in new, perfect condition.  Each LP is packed with 12" cardboard padding and placed in an LP specific cardboard mailer.  The postal service does occasionally bang up our boxes.  Though we take great care in packing your LPs, we cannot be responsible for damage that occurs in route to your address.  If you would like your vinyl to be taken out of it's jacket so seams are less likely to split in rough mail handling, please send us a reply, with that info, to your order confirmation e-mail.  If you would like to purchase insurance to cover any potential damage, hit us up at info(at) badmanrecordingco.com and we can quote that for you.  For international orders, please choose "International LP shipping" in the cart.  Mahalo.
Sorry, this product is temporarily out of stock.