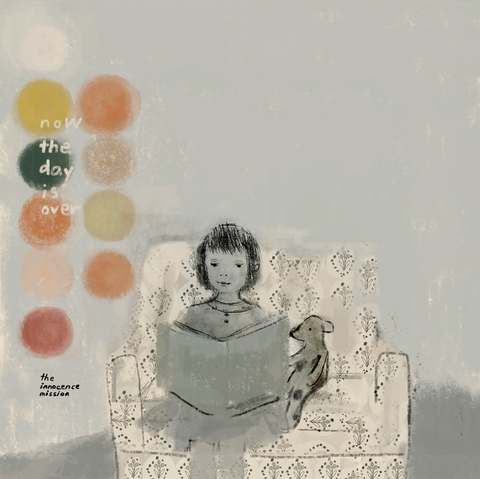 the innocence mission - now the day is over Vinyl LP
the innocence mission's best selling album in nearly two decades will now be available for the first time on vinyl.  Jazz-tinged and dreamy, this offering from the innocence mission collects standards and traditional songs that singer Karen Peris has sung to her children as lullabies since they were born.  The album features new album art (created by Karen Peris) and a new version of the song "Edelweiss" that is available only on this LP.  
$22.99, which includes shipping to U.S. addresses.  Choose "LP Shipping" at check out.  For international orders please choose "International Shipping" at check out.  

Among the covers featured from movies are "Stay Awake" from Mary Poppins, "Over the Rainbow" from The Wizard of Oz, "Moon River" from Breakfast at Tiffany's, and "Edelweiss" from The Sound of Music.  The record features one original song, "My Love Goes With You."

Australian radio station Kinderling Kids Radio described the album as "delightful" and "full of sweet sounds to send you off to sleep."  AllMusic called the record "an absolutely beguiling collection of standards," describing it as "a benefit collection of cover songs that are all centered reverie akin to dreaming. Calling them all lullabies would be stretching a little bit, but the presentations are such that they might as well be." They described "My Love Goes With You" as "perhaps the most beautiful and tender song on the outing", before summarizing that the album "could have been merely a curiosity piece, a curious addition to a mysterious catalog by a singular group. Instead, it is nothing less than a wondrous little gem."

"Lead singer Karen Peris of the innocence mission turns American standards into lullabies on the group's sixth CD, Now The Day Is Over." – NPR Weekend Edition Saturday

"An album of timeworn standards was probably inevitable eventually for the Innocence Mission, given that singer Karen Peris distinctive imprint of a voice and husband Don Peris talent for guitar-textured moodscapes makes the band ideally suited for interpretive excursions. In its own way, though, Now The Day Is Over stands with the bands most fully realized work to date." – Peter Blackstock, No Depression
Includes digital download card.

Track list:
Stay Awake
Over the Rainbow
What A Wonderful World
Moon River
Somewhere A Star Shines For Everyone
Prelude in A
Once Upon A Summertime
My Love Goes With You
Edelweiss (new version)
Sonata No. 8
Bye-Lo
It Is Well With My Soul
Now the Day is Over