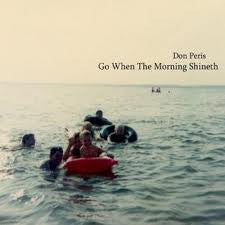 Don Peris - Go When the Morning Shineth
A gorgeous mostly instrumental album from the guitarist of the innocence mission.
"Go When The Morning Shineth is the newest CD by Don Peris, longtime guitarist for the innocence mission. Their career has spanned nine albums and numerous 4 and 5 star reviews across the globe. Don Peris' unique and unmistakable guitar tones dip and soar, shimmer with tremolo, and create strong melodies in a memorable collection of songs. This is also the newest release on Badman Recording Co.'s new mostly instrumental label Jemez Mountain (pronounced "hey-mez").
If you listen closely you can also hear the occasional strains of Paul Simon, Chet Atkins, Lindsey Buckingham and Nick Drake. Like the sea on the Polaroid cover of Go When The Morning Shineth, the music is deep and inviting and Don's soul-filled playing sings and moves. Don Peris tells us, "My summers have always included trips to Atlantic beaches. The summer holiday picture on the cover of the CD was shot many years ago by my dad with his Polaroid Land Camera." North Atlantic Sand, one of two songs that contain lyrics and vocals, was written during the winter and in Pennsylvania. "It's a remembrance of early trips to Delaware and New Jersey beaches, though it's also a love song to my daughter." Don is joined in singing this song by his wife Karen Peris. While "Day Trip", "Jubilee", and "Glimmer" are all attempts at expressing joy, there is also a mingling of melancholy. Perhaps an awareness of time passing, or a longing towards things as yet undefined. "Even in the most joyful of moments there can be layers and a longing. The "Ravel Pavane" is a perfect example of this. Here, in the midst of these beautiful major 7th chords is deep emotion and yearning. With "Flyer", I had it in mind to start out small in scope, just the guitar floating in reverb and chromaticism over low-strung cello notes, and then have it swell to something more grand by the end," says Peris.
Don's influences are broad and varied. It's not surprising that when asked about his favorites, his answer includes records like Talk Talk's Laughing Stock, M. Ward's Transfiguration of Vincent, and John Lennon's Julia. Peris tells us, "Julia is my very favorite song! I love the words and the sound of John's voice and guitar. And that guitar part. When I hear it, it's as if I've always known this part and have been carrying it around with me forever."- Amazon